CONTACT US

FORTUNE GROWTH TRADING CO.,LTD
Name:
Mr.kim
Tel : 86 536 2239099
Skype: kim-fortunegrowth
Q Q:
409461460
Email: fortunegrowth88@163.com
monica@sdfortunegrowth.com
Add : Room 1708,Incubation center,ShengCheng Street,ShouGuang City,ShanDong Province,China
Betaine monohydrate
Category: Betaine monohydrate Publish Time: 2017-06-06 15:25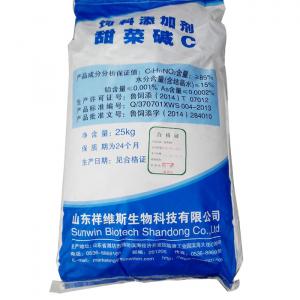 [Alias]: trimethyl glycine monohydrate
[Content] ≥85%, by C5H11NO2
[CAS No.]: 17146-86-0
[Molecular Formula]: C5H11NO2 • H2O
[Molecular weight]: 135.16 (1997 international relative atomic mass)
[Efficacy] same as the betaine
[Structural formula]
Specification

Animal specifies

Recommended additive amount (kg/ton mixed feeds)

Betaine monohydrate(85%)

Livestock and poultry

0.4~1.25

Aquatic product

0.8~4.0
Storage: Stored in a cool, dry place; kept sealed.
Period of Validity: 24 months (sealed)
Precautions: It is easy to absorb moisture, easy to agglomerate, but it does not affect its properties.
Prev product:No prev product
Next product:No next product